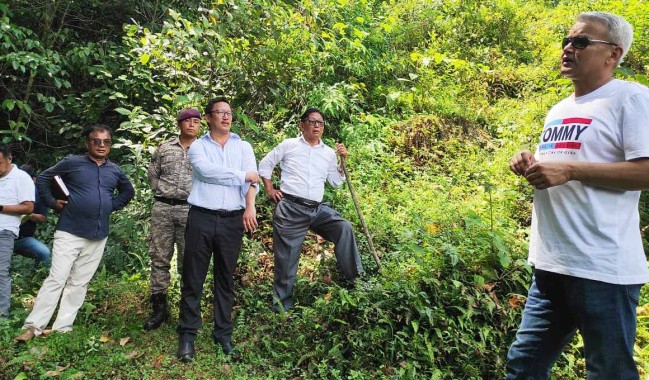 Thursday, Sep 07, 2023 06:30 [IST]
Last Update: Thursday, Sep 07, 2023 00:47 [IST]
Site inspected for Pakyong Sports Complex
PAKYONG, (IPR): Sports & Youth Affairs department led by secretary Raju Basnett along with Pakyong DC Tashi Chophel and Food and Civil Supplies advisor Inchung Bhutia today conducted a preliminary inspection of the site for Pakyong Sports Complex.
Chief Minister P.S. Golay has approved allocation of 14.32 acres (5.780 hectares) of land at Losing, Amla Bari and Dikling Pacheykhani for the Pakyong Sport Complex.
Also present were the SE, deputy director and AE from Sports & Youth Affairs department, revenue officer and RS of district administration, ACF (Wildlife), senior geologist, and staff from Mines & Geology department.
Secretary Raju Basnett, while speaking about project, stated that the upcoming Pakyong Sports Complex would not only serve as a hub for local sports enthusiasts but also be equipped to host national and international events. The visit will be followed by a detailed survey and the preparation of a comprehensive master plan.
Likewise, DC Tashi Chophel added that the government's allocation of land for the sports complex is in line with the government's vision of uplifting sports activities in the State.
With this approval, Pakyong district has now identified and earmarked land for the construction of district hospital, district court and district administrative centre.