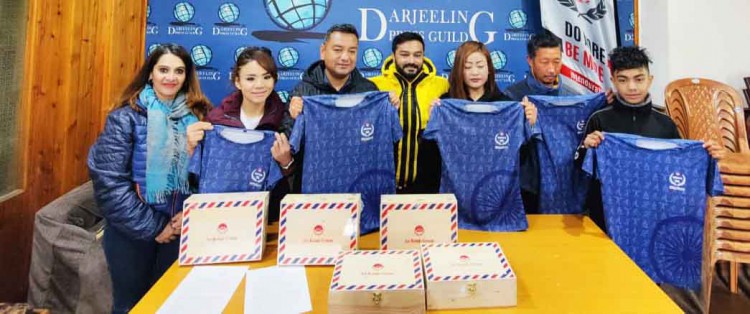 Friday, Jan 13, 2023 08:00 [IST]
Last Update: Friday, Jan 13, 2023 02:22 [IST]
Six runners from hills receive support from JBG Endura 101
GANGTOK,: Giving a boost to long distance runners from the Darjeeling hills, the Jai Balaji Group (JBG) Endura has selected six athletes from the hills in its panel. They will be supported by the group's sports brand JBG Endura 101 for enabling them to continue to invest in their fitness journey besides spreading the message of a healthy lifestyle and adopting a structured training program.
The selected runners are Vikram Rai, Karma Tshering Bhutia, Sunita Subba, Suraj Thami, Ashis Subba and Sammy Chamling. All of them are celebrated marathoners from the hills and have made a mark in various national and regional runs.
The JBG Endura 101 is a sports brand from Jai Balaji Group, which advocates a structured training program to achieve fitness goals and promotes wellness.
"JBG Endura 101 has been scouting for amateur athletes who have become role models in their community and society by achieving fitness goals through a disciplined and structured training model. We had already roped in four amateur athletes in Kolkata few months earlier and today we are thrilled to announce the appointment of six new recruits from Darjeeling in the panel of JBG Endura Athletes," said Nishant Maheshwari of Sportiz.
Maheshwari added runners and athletes from the hills were naturally talented and had sporting genes.
"The terrain here is perfect for running. The weather is also good. We have found that runners from the hills are naturally gifted with stamina and endurance. It was a prudent decision to scout for talents here and provide them the right platform and facilities to take their dreams forward," he said.