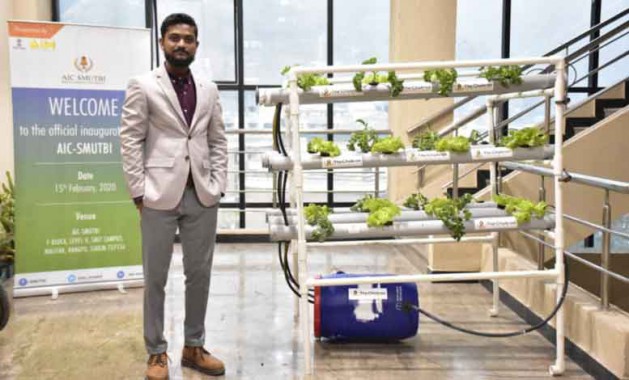 Thursday, Jun 25, 2020 14:00 [IST]
Last Update: Thursday, Jun 25, 2020 08:27 [IST]
Six Sikkim entrepreneurs selected in NERES 1.0 to receive seed grant
ISABELLA GURUNG
GANGTOK: Six start-ups by entrepreneurs from Sikkim have been selected to receive seed grant of Rs. 5 lakh each after being selected in NERES 1.0.
The entrepreneurship summit aimed at offering a platform to promising start-ups and aspiring entrepreneurs across the North Eastern region was organised by the Indian Institute of Entrepreneurship (IIE), Guwahati.
The six recipients of the grant are Abhinandan Dhakal (Shoten Group), Chimi Ongmu Bhutia (Lagstal), Manisha Sharma (Tag Along), Sonam Choden Bhutia (Norhla Corn Husk Flower), Pranay Kumar (Chakras Farm) and Pritam Pany (Voyage).
Abhinandan's start-up Shoten Group is based on agriculture and horticulture exotics cultivation and food processing in the Himalayas. After doing an intensive research on local and exotic crops that can be grown in the higher altitudes of the Himalayas, the start-up started work in Sikkim. They have identified Yacon, a Peruvian root whose syrup is excellent natural supplement for the management of diabetes, intestinal gut health, triglycerides management and obesity. Shoten is the only enterprise in India growing and manufacturing Yacon Syrup.
Chimi's Lagstal is based on textile and handicraft whose idea is to stop the use of plastic and use recycled papers and bamboo papers and handicrafts for daily use, thereby creating a positive impact in the environment and in daily life.
Manisha's Tag Along is an existing business which has a backpacker hostel, a cafe, and tours and travel desk as part of the service portfolio they provide. Based on the margins, ease of marketing and demand for cycle hire for single and multi-day tours, they see a considerable uptake for cycle hiring in the region.
Sonam's Norhla Corn Husk Flower aims at making flowers with the corn husk and take it a long way by providing a source of income to the married village women and increasing the number of products by corn husk.
Pranay's Chakras Farm is a Vertical Aquaponics Farming company based in Sikkim, producing organic vegetables and fish together by using minimal resources as compared to conventional farming .
Pritam's Voyage is a social enterprise established in March 2018 committed towards a Zero-Waste Himalaya. They are a turnkey waste management solution provider for institutions and individuals.
"During mid-2019, a team from Indian Institute of Entrepreneurship (IIE), Guwahati had visited Sikkim to make entrepreneurs from the State aware by conducting a workshop at Atal Incubation Centre (AIC)-Sikkim Manipal University Technology Business Incubation Foundation (SMUTBI), Majhitar. Entrepreneurs from the State were invited and interested candidates applied for online registration of NERES 1.0. A total of 12 registrations were received from Sikkim for the idea pitching competition," informed IT director and former MSME director N. Jaswant.
Two days before the State level competition, on March 26, the 12 candidates were invited to the Commerce and Industries department where the idea pitching competition was held. The mentors for the session were SIKKIM EXPRESS editor Amit Patro, AIC-SMUTBI CEO Dr. Tej Chingtham, Jaswant and officials from the Commerce and Industries department.
The mentors interacted with the candidates, with the aim of understanding their ideas. The candidates also presented the draft ideas.
A total of 1,400 ideas were registered from the eight northeastern States, of which 20 ideas were from Sikkim. 200 ideas of them were selected for the State-level competition in which 12 were selected from Sikkim. Out of the 12, only 11 participants were able to pitch their ideas and were recommended for the final round, informed Jaswant.
The final round was scheduled to be held at Guwahati but couldn't due to the Covid-19 pandemic. Before the final idea pitching, webinar was held through boot camps, where ideas were shared. The webinar was compulsory for the participants, it was informed.
The final idea pitching was also held online from June 1 to 5 wherein 50 ideas from the entire northeast were selected for the final round, where seven were from Sikkim. After scrutinizing, 30 best ideas were shortlisted, out of which six are from Sikkim.
Indian Institute of Entrepreneurship (IIE), Guwahati received funds from North Eastern Council (NEC) to conduct the first-of-its-kind initiative NERES 1.0 Summit: North Eastern Region Entrepreneurship and Start-ups Summit in the northeast. Organised and promoted by IIE, in collaboration with Federation of Industries and Commerce of North Eastern Region (FINER), NERES 1.0, in Sikkim was supported by the Industries and Commerce department.
The biggest NE entrepreneurship event was conducted with the aim at promoting the best business ideas with prize money; converge investors, eminent entrepreneurs & bankers in a single platform for intensive interaction, awareness programs across the northeast region, addressing sector specific challenges/opportunities and idea pitching across different sectors.