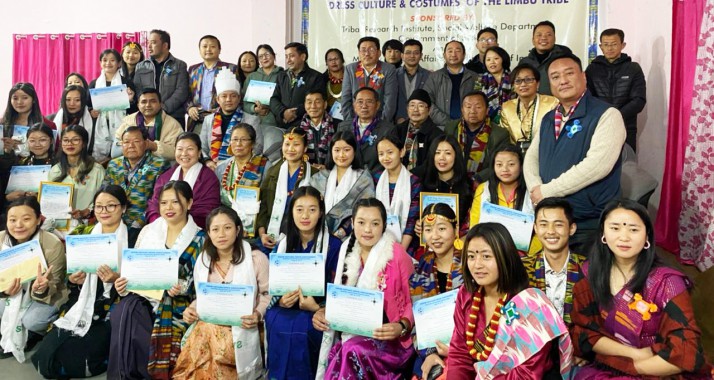 Wednesday, Feb 22, 2023 08:15 [IST]
Last Update: Wednesday, Feb 22, 2023 02:36 [IST]
Weaving a Limboo legacy 28 complete training on weaving of traditional Limboo fabrics
GANGTOK,: Even as the Limboo community are seen wearing traditional hand-woven fabrics on special occasions, there are a handful who follow the traditional weaving techniques.
An apex Limboo organisation, Sukhim Yakthung Sapsok Songchumbho, has taken an initiative to save the languishing weaving tradition and heritage and also to promote the Limboo culture.
The SYSS, in collaboration with State Institute of Capacity Building and with funding from Tribal Research Institute under State Social Welfare department, successfully organised a 45-day training on weaving of traditional Limboo dresses to facilitate skill development and empower members of the community.
The training, which was held at Yakthung Him here, had 28 participants from all six districts.
These participants are quite happy to have received the opportunity to learn the traditional handloom weaving process.
"We were taught different kinds of weaving and we got to learn to make different kinds of products like scarf, shawl and saari. We want to engage in the craft and hopefully SYSS will extend support to us in future as well," said one of the trainees.
The training presented itself as a fine opportunity to learn important skill sets which could besides contributing towards promotion of traditional Limboo dresses and accessories also empower the weavers.
Twenty-seven women and one male participant completed the training.
They were handed away certificates and honorariums in a valedictory function held at Yakthung Him today.
Lok Sabha MP Indra Hang Subba, the chief guest of the function, encouraged artisans not to cater to local markets only. By learning new designs and adding universal charm, they should prepare themselves for the global market, the MP said in his address.
He congratulated the SYSS and everyone involved in the training, terming the programme as a meaningful one. However, he said, the trainees should make it more meaningful by utilising the skills and knowledge gained in the training to empower themselves. "Do not stop here. Take it as a hobby or more importantly, as a profession. Develop your skills further, add values and monetise your skills," he told the trainees.
The MP also called for optimum utilisation of Yakthung Him, suggesting the community members to take advantage of the infrastructure by holding more such workshops.
Social Welfare secretary AB Karki said that consistent efforts should be made to promote traditional dresses as they are mini periscopes into any community's culture.
He also shared that infrastructure development alone does not translate to development. Conservation and preservation of art and culture is also equally important, he said adding that culture has a strong influence on how individuals perceive themselves and their place in the world, which ultimately contributes to the development of personal and shared identity.
"Everyone should proudly flaunt their traditional attires. Because if we do not, who will? There is no shame in wearing your traditional dresses," said Karki.
Karki along with Indra Hang also stressed on documentation and preservation of oral history and folktales.
Earlier, SYSS president CS Subba acknowledged contributions from the State and departments in their effort towards the preservation of Limboo culture and explained how the training will benefit the Limboo community. He expressed hope that the trainees will engage in promotion and preservation of Limboo fabrics and traditional weaving in their respective areas.
The function also had Education department advisor, MP Subba, IPR department advisor Birendra Tamling, SABCO chairman JB Subba, Skill development deputy director Dharma Raj Sharma and other dignitaries.
The valedictory function also saw felicitation of instructors Mon Maya Subba and Sandhya Limboo.
Weaving with the use of the traditional loom is a skill and occupation that is slowly disappearing and so is the weaving skill. The SYSS is hopeful that more young generation will learn the skill.