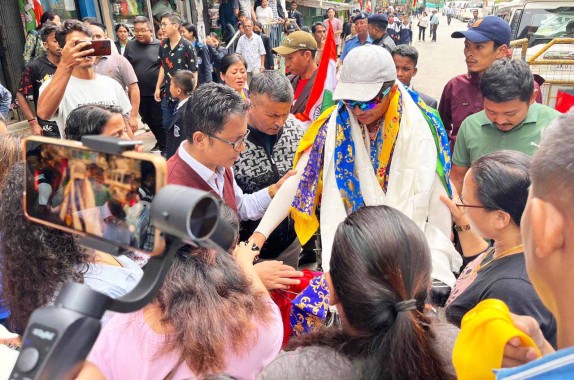 Saturday, Sep 09, 2023 07:45 [IST]
Last Update: Saturday, Sep 09, 2023 02:13 [IST]
Cyclist Joel Chettri completes solo ride from Sikkim to New Delhi
NAMO DIXIT
NAMCHI,: Cyclist Joel Chettri has successfully completed his solo cycling ride from Namchi, Sikkim to New Delhi.
Joel was given a rousing welcome upon his arrival at Central Park, Namchi, today.
The reception programme was attended by Skill Development Advisor Satish Chandra Rai, Building and Housing Chairperson Tashi Dorjee Tamang, Namchi Municipal Council Chairman Ganesh Rai, Senior SP Namchi Dr. Tshering Namgyal Gyatsho, councillors, members of the Sikkim Government Retired Employees Association, the general public, and students.
A letter of appreciation and token were presented to Joel for successfully completing the solo ride.
The 20-year-old cyclist from Jaubari, Namchi, Joel Chettri, started his ride from Central Park, Namchi, on August 17 and reached India Gate, Delhi, on August 30, covering a total distance of 1565 km. The expedition was flagged off by District Collector South M. Bharani Kumar.
Upon reaching New Delhi, he was called upon by Speaker of Delhi Vidhan Sabha Assembly Ram Niwas Goel at his office and was felicitated by him.
During the meeting, Joel apprised the Speaker about the motive behind his ride and the message he wants to deliver to the people, which is to generate awareness about the prevention of drug abuse while also promoting healthy and organic dietary practices.
In a brief interaction with SIKKIM EXPRESS, Joel shared that this is his first long-distance ride and that he has performed many short-distance rides within the state.
"From childhood, I was interested in cycling, and later I continued it for fitness, good health, and awareness, Joel said."The concluding point of this first long-distance ride was India Gate, and I gathered good experience from it," he informed.
Talking about his future endeavours, Joel expressed his zeal to continue the long-distance ride. My second long-distance ride will be to Ladakh after three months," he informed.
In his message to aspiring youths, Joel said, "Nothing is impossible, as I have completed my first solo ride in 14 days".
Sanjiv Pradhan, owner of Blue Sheep Mountain Biking (MTB), located in Singithang, has been supporting Joel Chettri for more than one year. The young rider is a student at Namchi Senior Secondary School; he completed his secondary education at Diu Damthang Secondary School.
Joel Chettri also started a YouTube channel three months ago, where posts and videos on cycling are available.