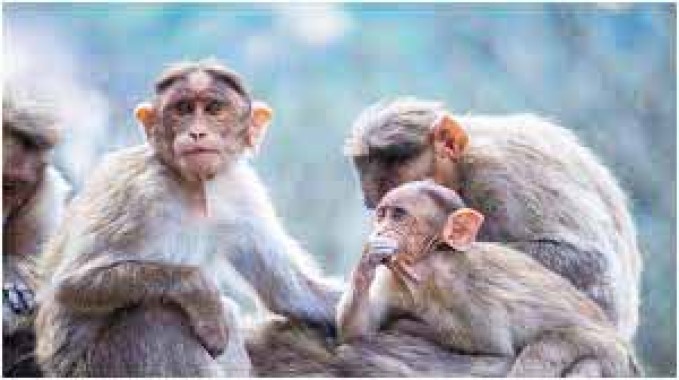 Friday, Sep 01, 2023 07:30 [IST]
Last Update: Friday, Sep 01, 2023 01:47 [IST]
Forest department initiates measures to tackle rising monkey menace in Gangtok
GANGTOK, : The Forest department has launched a comprehensive strategy to tackle the rising monkey menace in Gangtok by sensitizing the local residents on feeding the monkeys, and capture-sterilization-release initiative.
The latter is aimed to provide immediate relief considering the rise in monkey-related issues in the State capital. The monkeys are caught using the drop-door-cage method, transported to the zoo, sterilized and then released, said the Forest department.
It was informed that a total of 22 monkeys have already been caught from Namnang and Deorali localities.
Meanwhile, the Himalayan Zoological Park (HZP) in partnership with veterinary experts from Himachal Pradesh is organizing a 3-week training for local vets on monkey sterilization in September.
"A scientific study of monkey population in Gangtok town is also underway to better assess their population, distribution, habitat preference and seasonality. Community engagement is paramount to the success of this initiative. We hope that by working together with the citizen groups and leveraging scientific research, we can find lasting solutions that work for humans and monkeys both," said the Forest department.
Gangtok and various places in Sikkim are experiencing a rise in incidents involving monkeys in both rural and urban areas damaging crops, homes, and public property, causing concerns for both residents and authorities.
"One of the reasons for the unnatural growth in the population of monkeys (Macaque species) is human feeding and improper management of food waste. The long-term solution is to curb this practice and the Forest department has started sensitizing various stakeholders including office goers, homes, religious places, super markets and shops."
"The monkeys fed by humans lose their sense of fear and have now learnt to 'associate food with people' and they get attracted and slowly become aggressive. This increases the risk of bites or injuries and transmission of zoonotic diseases. Providing food to monkeys is not good for their health either and can disrupt their natural feeding patterns and behaviour," said the Forest department.
It has already been notified that monkeys are a protected species and feeding them or improper disposal of food waste is an offence and violators will be fined Rs 5000. The Gangtok Municipal Corporation has also joined hands to create awareness regarding this initiative, said the Forest department.