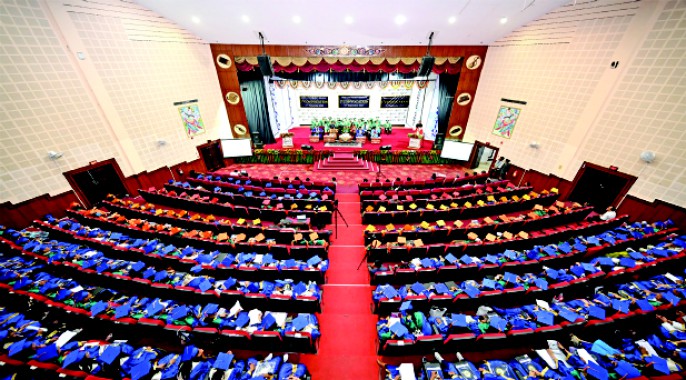 Sunday, Sep 17, 2023 07:00 [IST]
Last Update: Sunday, Sep 17, 2023 01:33 [IST]
3rd Convocation of SRM University Sikkim held
ISABELLA GURUNG
GANGTOK, The third convocation of Shri Ramasamy Memorial (SRM) University Sikkim was presided over by Governor of Sikkim and SRM University visitor Lakshman Prasad Acharya at Manan Kendra here today.
The convocation was declared open by the Governor and the top ranking students from the 2021, 2022 and 2023 batches were awarded medals, ranks, degrees and diplomas.
The Governor was accompanied by Sikkim Legislative Assembly Speaker Arun Upreti, Education ACS and SRM board of members R Telang, SRM chancellor Dr. P Satyanarayanan, vice chancellor Prof Ch. Satish Kumar, faculty members, outgoing students of SRM University and their parents.
Chancellor Dr. Satyanarayanan administered the convocation pledge.
The Governor expressed joy in attending the convocation as the university's Visitor. He congratulated the graduating students, and expressed that whatever they have learnt comes from their teachers. He urged the students to apply whatever they have learnt in the university in their day-to-day life, as the future lies in their hands.
"SRM University is playing a pivotal role in disseminating quality education to students of the Northeast. Use that knowledge for the betterment of the nation, and making your State and India proud. The students have worked hard to achieve their degrees, and the professors and parents are equally proud of you," said the Governor in his special address.
The Governor further commended the university's role in the field of providing quality education and the faculty's dedication. He further stated that the convocation marks a vital moment in the graduates' journey, signifying the beginning of a new chapter.
Speaker Arun Upreti acknowledged the hard work and dedication of the faculty members and stated that the convocation marks the significant moment in the life of the graduate as they explore the world. He urged the students to prepare themselves for the next big steps in life, and always remember their university. Applauding SRM, he stated that the university is the hope of the Northeast, to provide quality education at an affordable fee.
VC Prof Satish Kumar presented the SRM University's annual report. He informed that the university was established in 2014, and since has been providing quality education, with faculty from all States in India. He highlighted the different achievements of the university and the different activities and reach-out programmes provided by the university.