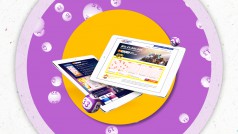 Friday, Oct 08, 2021 00:00 [IST]
Last Update: Friday, Oct 08, 2021 08:26 [IST]
States with No Government Lottery Play Online, Study Shows
Lottery is the favourite real-money game of the average desi player and it is offered legally by almost half the State Governments. When not available in their area, people look for online lottery alternatives, new research reveals.
Little Public Data Available on the Nation's Preferred Legal Gambling Outlet
Lottery is and has always been extremely popular throughout Bharat. Despite being well-established historically, investing people's emotions and income, little to no research is available on the subject. A recent in-depth inquiry published by ENV.Media exposes data and trends on State-run legal lotteries and their online competition.
Delving into demographics, logistics, legal and technological aspects, the research shows why, how and where we like to get our lottery tickets. It also reveals that online lottery is widely played in states where no paper lottery is available.
There are quite a few comparison sites for lotteries such as Online Lotteries India offering an honest breakdown and reviews of the different operators offering tickets over the internet.
Online Lottery Traffic Data Revealed
ENV Media presents some of its own website traffic data, dissecting user trends based on origin, UX and acquisition volumes.
The analysis clearly shows that Maharashtra is the market leader with almost 14% of all traffic and sessions directed towards international online lottery sites available to Indians. This comes as no surprise, given the State's size and level of development, including two of the Union's Tier-1 cities, Mumbai and Pune.
Immediately behind it, however, there are a number of states which provide significant player traffic and stand out for not having a legal lottery on their own territory – including Telangana, Tamil Nadu, Delhi, Uttar Pradesh, Gujarat, Bihar, Andhra Pradesh, Haryana, Rajasthan and Odisha in the top half.
States with no government-run paper lottery dominate the Top 15 list and stand for a 56% share of the overall user base, ENV Media affirms. Moreover, these are all states with Tier-1 and many important Tier-2 urban areas.
Players Looking for Alternatives
Apparently, being big and well-developed economically counts as much as having the habit of playing the lottery. Even so, the trend is clearly visible – large areas of the Union that have no access to legal State-run lotteries are increasingly likely to seek alternatives, whether online or on the black market, the study suggests.
The choice to have only paper-based lottery tickets is also becoming an issue for some of the States with official government games. The slips often end up being smuggled over to other States, and the majority of cases regard exactly those that do not have their own Government drawings.
Besides easy tracing and taxation, apparently more State legislators need to think about introducing an online version of their official lottery draws. Otherwise they are losing out to their main offshore international competitors that offer huge jackpots and remote playing possibilities.