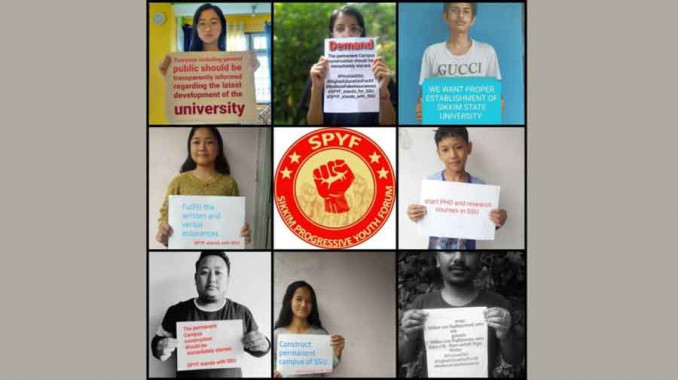 Sunday, Aug 09, 2020 14:45 [IST]
Last Update: Sunday, Aug 09, 2020 09:10 [IST]
Online campaign for Sikkim State University begins
SE Report
GANGTOK: The week-long online movement called by students of Sikkim State University (SSU) along with SPYF and the student community of Sikkim began today.
The Sikkim Progressive Youth Forum (SPYF), which has been supporting the movement, in a statement said, the movement has been successful in exposing the sheer negligence of the State government in developing the only State university of Sikkim.
"Support and solidarity has been extended from all walks of life. People, came forward overwhelmingly and participated in the campaign by holding placards citing the various demands and uploading on their social media account," said the SPYF adding that the supporters have unitedly petitioned (online)the Chief Minister,the State Education minister, the Union Education minister and the Prime Minister and it has also received a thumping support.
According to the forum, the battle for proper establishment of SSU is long and such movements are required to bring consciousness among all members of Sikkimese society. The SSU is not mere a concern for students alone, but a problem which must provoke the thoughts of every right thinking member of the society, the forum added.
"The educational sector has been neglected systematically and any question to the various deep rooted problems within it has been sidelined with one or the other excuse. We have always stood for universal healthcare and high quality education and we believe they must be prioritised," the forum said. The government must break the silence and prioritise SSU in terms of the demands, it added.
The SPYF further stated that the movement for SSU must be intensified with each passing day and the educated section of the society must take active part in it. "We encourage those who participated today to propagate the issue to their friends and family circle and carry forward the movement with utmost sincerity and dedication.The online campaign shall continue till August 15 but the movement for a standard SSU shall continue until a logical culmination is reached and all the demands are fulfilled," said the SPYF.