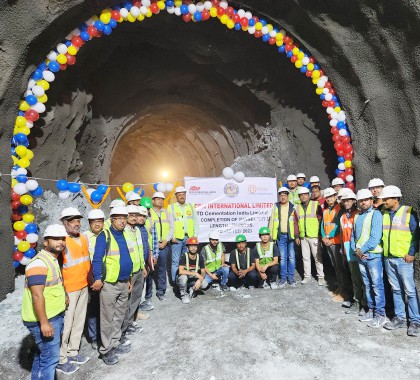 Monday, Feb 20, 2023 08:45 [IST]
Last Update: Monday, Feb 20, 2023 03:10 [IST]
Sevoke-Rangpo Rail Project achieves another milestone
GANGTOK,: In another milestone achievement in the Sevoke-Rangpo Rail Project, another breakthrough of Tunnel No.10 was achieved on Saturday.
The puncturing of the main tunnel of T-10 located in Kalimpong district of West Bengal through an evacuation tunnel was done in the presence of project director Mohinder Singh and other officers of Ircon International Limited, Northeast Frontier Railway officials, D2 PEMS (Detail Design Consultancy) team and construction agency ITD Cementation India Ltd along with representatives from local administration, informs a press release.
The length of the main tunnel of T-10 is 5,300 m and of the length of the evacuation tunnel is 1,144 m. This is the longest tunnel in the Sevoke-Rangpo Rail Project (SRRP) and is located between Bhalukhola and Tarkhola in Kalimpong district.
The evacuation tunnel, which connects the main tunnel with the NH-10 is the longest evacuation tunnel in this project. The tunnel traverses through vulnerable and challenging geological conditions of the lesser Himalaya.
Like all other tunnels in the project, to counter vulnerability of the groundmass New Austrian Tunnelling Method has been adopted and the design was given by a renowned European consultant.
The excavation work on this evacuation tunnel began in June 2021 and completed in just one and a half year which is a major achievement considering the vulnerable geological condition, the release mentions. The release adds that the puncturing of main tunnel through evacuation tunnel will further enhance the work progress at the main tunnelling work in T-10.
About 3320 m of tunnelling work has been completed in main tunnel of T-10 and at present only 1980 m is left, which is expected to be completed by end of this year.
About 70% of work in this project has been completed till date and at present all the activities related to construction of tunnels, bridges and station yards are going on war footing basis to complete the project by end of 2024, the release adds.