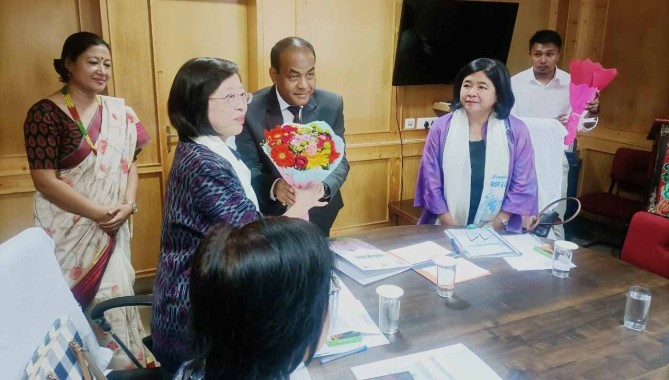 Tuesday, Sep 12, 2023 06:00 [IST]
Last Update: Tuesday, Sep 12, 2023 00:27 [IST]
Sikkim and Thailand aim to strengthen bilateral relations in tourism
GANGTOK, (IPR): An exchange meeting with the Ambassador of Thailand to India, Pattarat Hongtong was organised by State Tourism and Civil Aviation department today.
The meeting was attended by Acharapan Yavapravas, Consul General of Thailand in Kolkata, Tourism secretary Prakash Chhetri, Tourism PCE Neeraj Pradhan, MSME director M. Ravi Kumar, additional secretary Bandana Chettri, Food Preservatives managing director Chandra Rani Rai and stakeholders.
The Ambassador of Thailand to India, in her address, mentioned the shared cultural and traditional aspects between the Sikkimese and Thai community. She expressed her appreciation for Sikkim's commitment to sustainable tourism, a philosophy also embraced by the Thai government.
Furthermore, the ambassador discussed the primary objectives of their visit, which include exploring investment opportunities in the tourism sector and enhancing trade in Sikkim. She also underscored the importance of exchanging ideas and collaborating on sustainable tourism and promotional activities, particularly considering Sikkim's popularity among the Thai community.
In her concluding statement, she extended her appreciation to the presenters and acknowledged the suggestions made by the stakeholders, and suggested to organise follow-up meetings to further discuss the productive discussions held today.
In his welcome address, secretary Prakash Chhetri provided an overview of the State's tourism landscape. He underscored the government's efforts to enhance the tourism industry and outlined the department's objectives and forthcoming plans related to tourism.
Furthermore, he emphasised the importance of strengthening relationship between Sikkim and Thailand government. He also discussed the ongoing projects across various sectors aimed at improving tourism in the state, including plans for enhanced air and railway connectivity. Additionally, he expressed the State's keen interest in collaborating with the Thai tourism Industry to facilitate mutual exchange.
MSME director M. Ravi Kumar discussed the government's efforts to promote industries in the state through various schemes and financial assistance. He highlighted the importance of boosting export promotion.
He put forward several sectors that the Thailand government could consider, such as food processing, organic agriculture, pharmaceuticals, handicrafts, and bamboo. He also stressed the potential of the film and music industry, given the picturesque landscape of the State. Additionally, he mentioned the growing cosmetic industry and the variety of spices available in the State.
The meeting also included presentations by stakeholders from the Tourism and the Commerce and Industries departments, and a brief video presentation on Sikkim tourism.