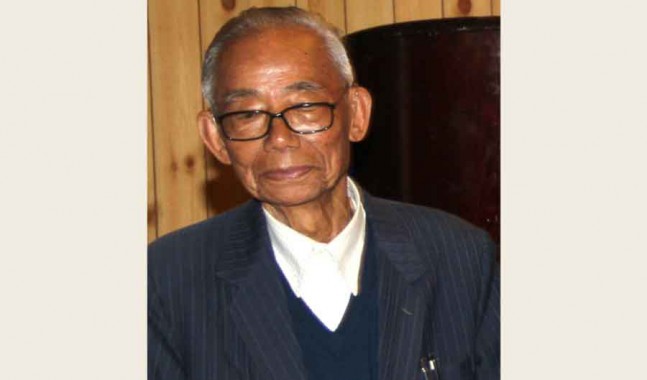 Sunday, Aug 09, 2020 15:00 [IST]
Last Update: Sunday, Aug 09, 2020 09:27 [IST]
CD Rai passes away
SE Report
GANGTOK: Chandra Das Rai, a living history of Sikkim, passed away on Saturday evening at his residence in Daragaon, Tadong here. He was 97 years old.
Chandra Das Rai, popularly known as C.D. Rai, served Sikkim in many capacities for a lengthy period. He was a politician, an administrator, a social worker, a litterateur and an accomplished journalist.
Chandra Das Rai was born on April 13, 1924 at Mikhola, South Sikkim. He did his primary education at the local village school and then went to Darjeeling where he completed his secondary education from St. Robert's School in 1945.
At a very young age of 24 years, Chandra Das Rai became the Education minister of Sikkim in 1945 for a brief period. The next important chapter in his life came in 1960 when he became the Sikkim correspondent for the famous Amrita Bazaar Patrika published from Kolkata. He used to tell the stories from Sikkim to the outside world through Amrita Bazaar Patrika.
After his stint in journalism, Chandra Das Rai served Sikkim as a bureaucrat. After retirement as a secretary, he resumed journalism and contributed vastly for the development of journalism in Sikkim in the early days of media in Sikkim. He was the editor of Himali Bela from 1990 to 1993 and then launched Gangtok Times as its founding editor. He was also the founder president of Press Club of Sikkim and also the chairman of the Ram Patro Memorial Award Committee.
Among the many awards and honours in his life, Chandra Das Rai was bestowed with the Bhanu Puraskhar by Nepali Sahitya Parishad in 2014 and Sikkim Sewa award from the State government for journalism.
His funeral will take place on Monday. He is survived by his son former Lok Sabha MP P.D. Rai, a daughter and grandchildren.

Condolences: Chief Minister P.S. Golay has mourned the passing away of C.D. Rai and extended his heartfelt condolences to the bereaved family.
The contribution made by C.D. Rai for Sikkim and her people is unparalleled and his demise has created a dent in the intellectual society of Sikkim, said the Chief Minister.
"Today, the State of Sikkim has lost one of its most famous and reputed son. May his soul rest in eternal peace," said the Chief Minister.