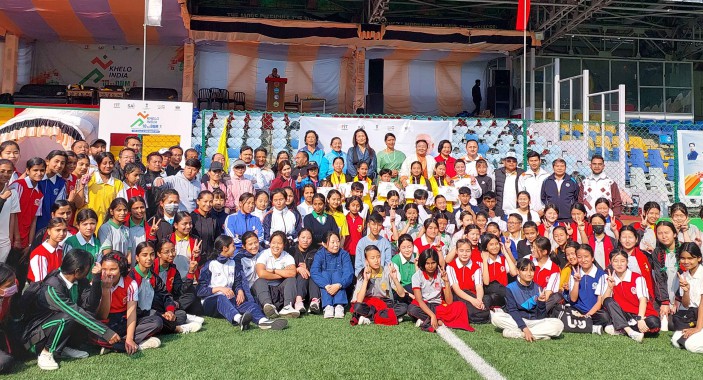 Saturday, Mar 11, 2023 08:15 [IST]
Last Update: Saturday, Mar 11, 2023 02:42 [IST]
Khelo India Dus Ka Dum sports event launched in State
KUNAL RAI & IPR
GANGTOK,: State Sports department launched a Khelo India Dus Ka Dum event today as a celebration for the International Women's Day 2023.
Under the programme, a series of sports events are being held across the State till March 25.
At Gangtok's Palzor Stadium, the inaugural function had Culture department advisor Bhim Kumari Sharma as the chief guest along with Sikkim Khadi and Village Industry Board chairperson Chung Chung Bhutia and deputy mayor Tshering PALden Bhutia, Dronacharya Awardee Sandhya Gurung, international veteran table tennis player Radhika Pradhan and Badminton Association of Sikkim president C Zangpo Bhutia.
Sports additional director RB Biswakarma said that under Khelo India 10 Ka Dum, women athletes of the State would be engaged in competitions across 10 sports disciplines.
Bhim Kumari Sharma who inaugurated the event, gave a brief about International Women's Day and its significance. Touching on the subject, she apprised everyone about how far women in the Indian society have come despite of gender discrimination in the past. She stressed on the importance of women participating in sports and said that it gives them the needed confidence and teaches them the value of team work. She also gave a brief glimpse of her life where sports during her school days had helped her overcome many hurdles in life.
In her address, she requested girls to participate in sports and gave examples of Sikkimese women who have excelled in academic, sports, music, arts and in various fields. She requested everyone to support female athletes in the State by attending their sporting events in the same way in which they support male athletes.
The chief guest along with other guests flagged off Chief Minister's One Mile Run today. The run was participated by students from various schools of Gangtok. The top five finishers were handed gift hampers and certificates. Sohini Limbu stood first, Dikila Chettri finished second, Sabitri Limbu third, Avvantika Tamang fourth and Dichen Doma Bhutia finished fifth.