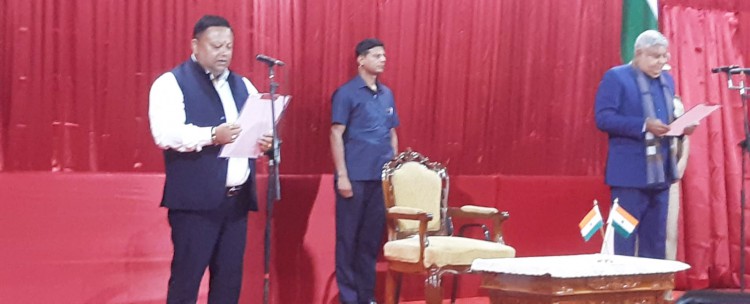 Friday, Jul 15, 2022 07:00 [IST]
Last Update: Friday, Jul 15, 2022 01:24 [IST]
Anit Thapa takes oath as GTA chief executive
DARJEELING,: Governor Jagdeep Dhankar on Thursday came down heavily on Gorkhaland Territorial Administration (GTA) maintaining that the hill body was riddled with rampant corruption which halted development here.
The Governor was speaking during the oath taking ceremony of GTA chief executive Anit Thapa at Bhanu Bhawan here.
"Development of the hills is of paramount importance. This should have been the third election of the GTA but unfortunately it is the second election," said the Governor.
The Governor also commented on the absence of Chief Minister Mamata Banerjee at the ceremony. He stressed that the Chief Minister should have been present at the function.
"In the past three years, I have only seen stagnation of development here. Drinking water problem and bad road conditions are still there along with GTA Act being violated, lack of transparency and accountability with no audit taking place every year," said Dhankar.
"This team is starting on a clean slate and they should make sure that there are no violations and they should reflect their commitment," he added.
The Governor further warned that the shortcomings and violations in the GTA will be duly accounted for. You can have my assurance that there will be an audit for each year and everyone who has caused violation will be brought to book, he said.
Commenting on this, the newly sworn-in GTA chief executive Anit Thapa said: "The Governor was giving his advice and he is like a guardian for us. We have also been maintaining that an audit should be done along with stressing on good governance."
The first meeting of the GTA Sabha was also held today at Bhanu Bhawan where it was decided that Anjul Chowhan would be the chairman of the house and Rajesh Chowhan the vice chairman.
Both the Governor and the Chief Minister left the hills today.