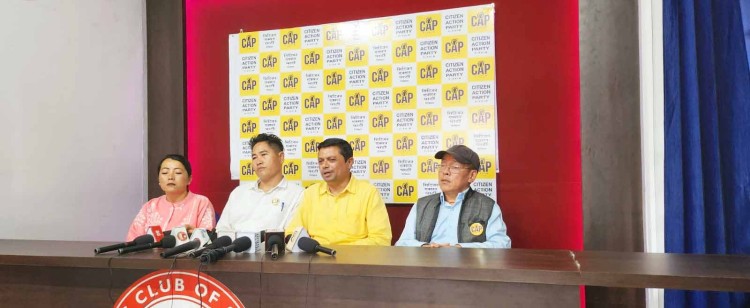 Friday, Sep 08, 2023 07:00 [IST]
Last Update: Friday, Sep 08, 2023 01:25 [IST]
CAP assures to bring "real local self-governance" in Sikkim by empowering panchayats
GANGTOK,: The Citizen Action Party (CAP) – Sikkim has accused the SKM government of crippling the powers and functioning of the panchayats, and doing nothing for empowerment of the rural local governance.
Addressing a press meet here on Thursday, CAP Sikkim president LP Kafley maintained that the Panchayati Raj Institution is failing in the State due to failure of devolution of powers to the panchayats.
"It has been 30 years since the Panchayati Raj Act came into existence in Sikkim. There are 29 diverse subjects under the system, yet they have not been implemented in the functioning of Panchayati Raj in the State. There are no Panchayat Sammelans happening in the State anymore. The month is September, yet two quarterly grants for this year for Panchayats have not been sanctioned by the government," said the CAP Sikkim president.
Kafley claimed that the decentralization of power is not happening in Sikkim with the few remaining functions of the panchayats being usurped by the State government.
"The government has taken the power from the panchayats and given it to the block officers. The power needs to be decentralised but panchayats are being made to align with political parties. The panchayat election is said to be non-political but most of the winning independent candidates have been forced to join the ruling party. Even the list of beneficiaries is being decided under party lines and not by the panchayats," said the CAP Sikkim president.
The CAP Sikkim also criticized the Rural Development department for not providing adequate staff to assist the panchayats and rural public. One Rural Development assistant has to look after 2-3 Gram Panchayat Units. Panchayat Development assistants and Panchayat Account assistants have not been regularised even though they have been working for over 8-10 years, said the party.
Calling for strengthening of local self-governance, the CAP Sikkim president assured that the party will bring "real" local self-governance in Sikkim with a 30 per cent planned budget for local urban and rural bodies and decentralization of 29 subjects.
"Composite administrative centres will be introduced with all the concerned departments. From one centre they will get all the benefits. All benefits will reach the public as they will take their own decisions with the panchayats. They need not wait for janta mela or festival or wait for elections to receive benefits. As per application they will get benefits in a decentralised manner. When they are elected, zilla panchayat, gram panchayat presidents and other functionaries should get cabinet ranking and salaries with monthly pensions for the retired panchayats. Discretionary grants for panchayats will be decided on their own," said the CAP Sikkim president.
Promising to make the GPUs paperless and digital, the CAP Sikkim has also committed to authorize the panchayats to issue documents related to birth, death and domicile certificates.