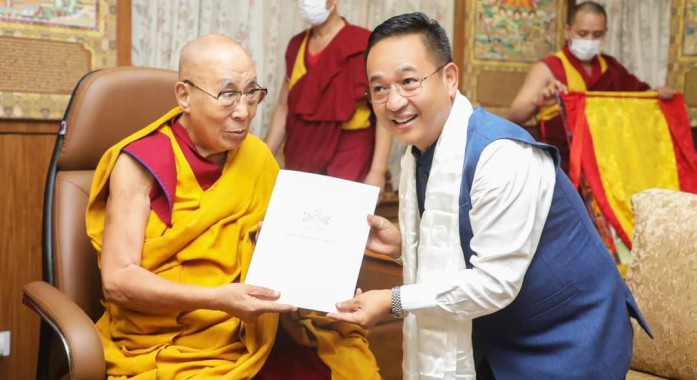 Thursday, Sep 21, 2023 22:30 [IST]
Last Update: Thursday, Sep 21, 2023 16:59 [IST]
CM meets HH Dalai Lama, expresses gratitude for accepting Sikkim visit invitation
DHARAMSHALA, (IPR): Chief Minister Prem Singh Tamang along with cabinet minister Sonam Lama and senior officials of the State government met and sought blessings from His Holiness the XIVth Dalai Lama at his official residence in Dharamshala this morning.
On behalf of the people of Sikkim, the Chief Minister extended a warm invitation to His Holiness for a visit to Sikkim in October this year.
During the interaction, the Chief Minister expressed his gratitude to His Holiness for accepting the invitation to visit Sikkim, which has brought joy and widespread happiness among devotees and followers in the State.
The Chief Minister briefed His Holiness on the State government's relentless efforts to promote peace and harmony among all sections of the society.
Accepting the invitation, His Holiness expressed his happiness at the prospect of visiting Sikkim, recalling his warm experiences in Sikkim and cordial relationship with the people of Sikkim.
His Holiness emphasized the promotion of Buddhism through logic and reasoning, highlighting the growing interest of scientific concepts in Buddhism for the promotion of mental health and peace of mind today.
It may be mentioned that 21st September is observed every year as 'International Day of Peace'.
The Chief Minister was accompanied by Ecclesiastical minister Sonam Lama, chief secretary VB Pathak, ARC chairman Tenzing Gelek, CMO secretary SD Dhakal, Ecclesiastical secretary Dr. Passang D. Phempu, Resident Commissioner, Sikkim House, A.K. Chand, Sikkim Urja Ltd chairman Sunil Saraogi, and other officials.