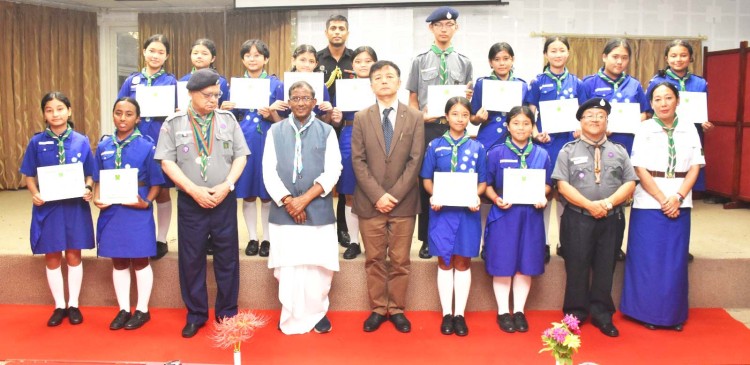 Thursday, Sep 14, 2023 06:45 [IST]
Last Update: Thursday, Sep 14, 2023 01:07 [IST]
Governor attends award distribution ceremony of Sikkim State Bharat Scouts and Guides
GANGTOK, : The State award certificate distribution ceremony of the State Bharat Scouts and Guides took place at Raj Bhawan today. Governor Lakshman Prasad Acharya graced the occasion as the chief guest.
The ceremony recognized and honoured 14 outstanding Scouts and Guides, along with their leaders, for their exceptional contributions, informs a press release.
In his address, the Governor emphasized the core principle of Scouts and Guides, which is the spirit of service. He commended the Scouts and Guides for their unwavering commitment to serving the community and society at large.
The Governor expressed his delight in witnessing the remarkable activities and achievements of the youth involved in Scouts and Guides, remarking that they are the ones who add harmony and rhythm to the nation's progress.
He extended his best wishes to the honoured Scouts and Guides, expressing his hope that they would not only receive State awards but also achieve national recognition.
The Governor highlighted the pivotal role of today's youth in shaping the future of the nation, emphasizing that a strong youth population leads to a strong country. He praised the Government of India for adopting Bharat Scouts and Guides as an institution that inspires youth towards national interests and lauded its role in projecting India on the global stage.
The ceremony was also attended by State chief commissioner of Scouts HP Chhetri, State chief commissioner of Guides Meena Bhutia, Raj Bhawan secretary Jigme Dorjee Bhutia, Scouts and Guides secretary Prakash Kazi Shakya, vice president D.B. Cintury and other leaders of Scouts and Guides.