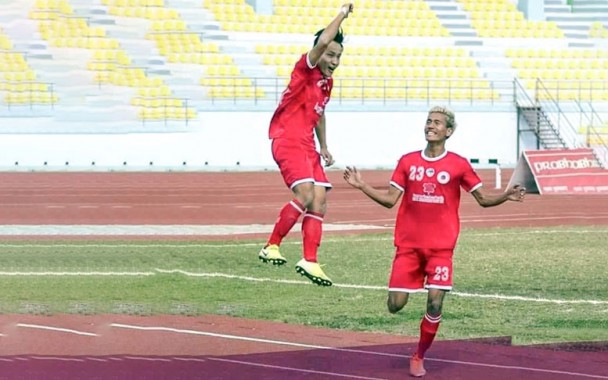 Thursday, Feb 13, 2020 14:20 [IST]
Last Update: Thursday, Feb 13, 2020 08:36 [IST]
UTTAM RAI: ON A GOALSCORING RUN IN NEPAL
BIJOY GURUNG
GANGTOK: Sikkimese footballer Uttam Rai is making a mark in the ongoing Qatar Airways Nepal A Division League with four goals and one assist in the seven matches he had played so far for Friends Club.
Based in Kopundole, Lalitpur at Kathmandu Valley, Friends Club is presently occupying 8th position among the 14 clubs playing in the top football league of Nepal. The club is targeting 6th position before the league ends by next week so that it can claim a berth in the upcoming Super League scheduled in March-April.
Uttam, 23 years, has played a vital role in the mid-table position of Friends Club. He joined the club in January when the league was already in its middle stage. He hit the ground running and scored crucial goals for Friends Club to grab vital points.
"It has been a wonderful experience so far. I joined the club midway in the league and the club had already played three matches. I could settle early and found my game," said Uttam in an online conversation from Kathmandu with SIKKIM EXPRESS.
Uttam's performances fetched him 'man of the match' two times. He has scored four goals and one assist in seven matches. He could not play the last match due to an injury and would be missing the immediate next match also. He is among the four foreign players in the Friends Club squad, the other three being Brazilian players.
"The club naturally have extra expectations from their foreign players. It is good actually since it motivates me to give my best," said Uttam who is playing in a foreign league for the first time.
Uttam, having climbed the ranks through the junior national football team, had previously played professional football for Dempo and Chennaiyin FC in I-League and ISL respectively. He returned to his home State Sikkim in October last year for a lengthy break with the new I-League window opening only in January this year. He was roped in by Sikkim Himalayan SC for the 39th Governor's Gold Cup.
Uttam's goals saw the home team reaching the Governor's Gold Cup and he was adjudged the player of the tournament. Meanwhile, a friend made enquiries on whether he was interested in playing in Nepal and in January, Uttam was in Kathmandu to sign for Friends Club.
"I was waiting for the I-League window to open up but a friend asked me whether I am interested to play in Nepal. I had never played in Nepal, so I was interested and wanted to gain some experience of playing outside the country," said Uttam.
"The season here is about to end but we have the Super League starting next month. If my club reaches 6th position then we will play the Super League. If this does not happen, another club wants me to play for them in the Super League," said Uttam.
To a question, Uttam shares that footballers in Kathmandu are well acquainted with Sikkim and Sikkim Football. "Senior players share the stories of them playing in Sikkim, especially the Governor's Gold Cup. Some of them have even won the Governor's Gold Cup," he said.