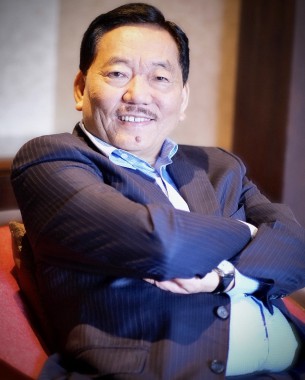 Monday, Jul 18, 2022 08:30 [IST]
Last Update: Monday, Jul 18, 2022 02:54 [IST]
Sec 144 was imposed to supress public protest against CS: Chamling
GANGTOK,: Former Chief Minister Pawan Chamling on Sunday asserted that the recent CrPC Sec 144 imposition was intended to "supress public protest" against chief secretary S.C. Gupta and questioned why Chief Minister P.S. Golay is defending the senior-most bureaucrat who is facing corruption allegations.
"Did people make P.S. Tamang the Chief Minister of Sikkim to defend the chief secretary in an alleged corruption case? Does he not know the dignity of his post? Furthermore, Section 144 was imposed in Gangtok to suppress public protest against the alleged corruption case by the chief secretary. This signals the complete collapse of democracy in Sikkim. Still, the worst is yet to come. By 2024, Sikkim will be just like North Korea," said Chamling in his weekly press statement.
A newly-constituted Joint Action Committee (JAC) had announced to hold a peaceful protest rally in Gangtok on July 11 demanding dismissal of Gupta from the chief secretary's post so that a free and fair probe is conducted on the corruption allegations. The Gangtok district administration then issued prohibitory order under Section 144 of CrPC at MG Marg and other areas of the State capital from July 9 to 12.
"The Joint Action Committee is asking, and rightly so, to suspend S.C. Gupta from the post of chief secretary until the investigation into the alleged corruption case is completed. That is the normal procedure when a case against any civil servant or incumbent public servant is undertaken."
"Let me ask this government one simple question: If you can expel college students who simply wanted to meet the Education minister, terminate hundreds of government employees from the SNT department and OFOJ employees, what is stopping you from suspending the chief secretary who is facing serious charges of alleged corruption?," questioned Chamling.
The former Chief Minister contended that the some of the influential leaders of the SKM government may be tangled up in the corruption case. "Moreover, the government is afraid of S.C. Gupta possibly revealing deeper corruption involving the Chief Minister and ministers themselves if he is suspended. It looks the case of 'lahara tanda pahara garjaney'," he said.