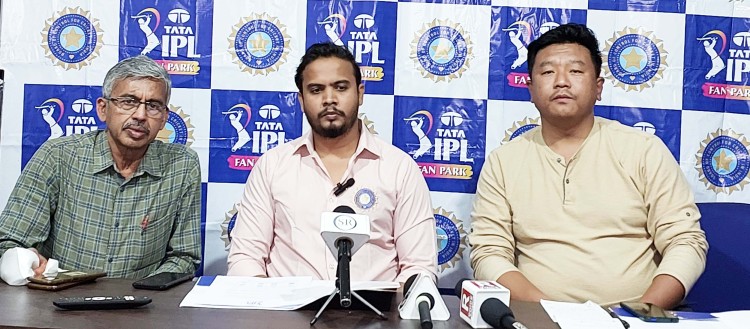 Saturday, May 06, 2023 07:45 [IST]
Last Update: Saturday, May 06, 2023 02:02 [IST]
IPL Fan Park returns to Gangtok
KUNAL RAI
GANGTOK,: Cricket fans here will get to experience a stadium-like atmosphere when the Guards Ground here plays host to TATA IPL Fan Park on Saturday and Sunday.
Hosted by Board of Control for Cricket in India (BCCI) in collaboration with Sikkim Cricket Association (SICA), four IPL matches will be shown live on a giant screen. The Fan Park will also have fun games and contests with cool prizes on offer.
Addressing a press conference today, BCCI representative Satyapal Mikade said, "As not every cricket enthusiasts are able to attend the live match, BCCI has been broadcasting the matches live in fan parks, providing a stadium-like experience to the fans."
"The entry is absolutely free and the fun and excitement will double with music, merchandise, food stalls, beverages and some fun activities by IPL's official sponsors," he added.
SICA secretary Rinzing Namgyal Bhutia said that besides entertainment and fun, the IPL Fan Park attracts youngsters to cricket. "After the last Fan Park event in Gangtok, many young cricket talents came forward and we are confident that the event will inspire more kids to take up cricket. I on behalf of Sikkim Cricket Association would like to express my gratitude to the BCCI for organising the event in the State."
He appealed all cricket enthusiasts along with players and district cricket associations to be the part of the event and make IPL Fan Park in Gangtok a grand success.
The Fan Park will open its gates at 1:30 pm on both days.
Similarly, a lucky draw would be held with the lucky winner getting a signed jersey.
The press conference was also addressed by SICA vice president Dinesh Khator.