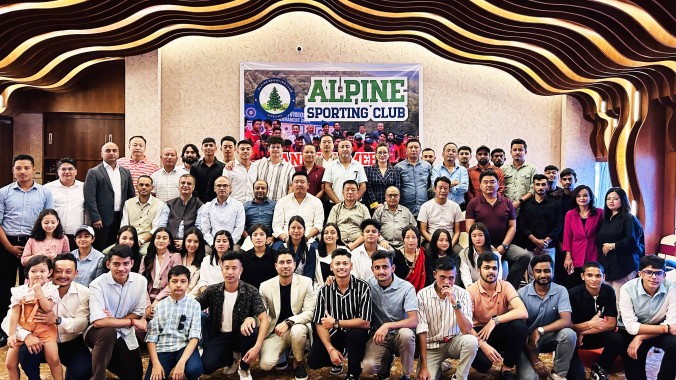 Monday, Sep 04, 2023 07:45 [IST]
Last Update: Monday, Sep 04, 2023 02:03 [IST]
Alpine Sporting Club honours cricket achievers in annual gathering
GANGTOK, : Alpine Sporting Club, one of the State's prominent cricket clubs, came together at a local hotel for its annual meet where they acknowledged the accomplishments of its cricketers during the 2022-23 season.
Alpine Sporting Club has a history of contributing talented players to the State team and this season was no exception. Three of its players – Pranita Chettri, Ashish Thapa and Nilesh Lamichaney – represented Northeast Zone in BCCI zonal tournaments. They along with other Alpine SC players who represented various Sikkim teams in national tournaments and members of the Alpine SC team which won the SICA A Division men's tournament this year felicitated today.
The club extended its appreciation to SICA coaches and selectors. They also acknowledged the contributions of all A Division clubs.
SICA president Tika Subba attended the event as the chief guest, accompanied by secretary Rinzing Namgyal Bhutia, treasurer Mukesh Agarwal and joint secretary Gopal Sharma.
In his address, Tika Subba reflected on Sikkim's cricketing journey, highlighting past challenges and obstacles.
As a founding member of Alpine SC, Subba expressed pride in the club's achievements and expressed his hope that Alpine would continue to shine not only within the State but also beyond its borders.
He also shared SICA's plans for the future which include launching a franchise cricket league and establishing cricket centers of excellence in all six districts.
Subba urged for equal participation and contributions from all players, clubs and stakeholders for the growth of cricket in the State. He also emphasized the importance of discipline and dedication from the players.
"The Sikkim Cricket Association remains dedicated to supporting clubs and fostering professionalism in the sport, and to ensure that cricket continues to flourish in the State," the president concluded.